WARSAW – June 24  – Moonshine Inc. gets a new title and significant changes in the gameplay and the story.
Moonshine Inc. (announced initially as Moonshiners: The Game) is an isometric economic simulator with RPG elements, in which you will develop your character, obtain multiple companions, and build your moonshining empire from the ground up. A group of experts in the field of physical chemistry and economics is involved in the production. Thanks to their help Klabater development team has built a credible economic model for trading in illegal alcohol and accurately reproduced the chemical processes related to the fermentation and distillation of alcohol. In addition, players will be captivated by an original story full of references to cult series and movies such as Breaking Bad or Ozark.
For Moonshine Inc., the studio has also developed an innovative "Red Flag Police" mechanic, which dynamically reacts to the player's actions and, depending on the results of those, controls the behavior of the police and federal agents.
Initially, Klabater planned the game to be based on the Discovery's Moonshiners TV show. Companies signed a license agreement in 2019, which allowed Klabater to work on the moonshining game and a more lifestyle production based on the Animal Planet TV format. This agreement was changed today – while Klabater is still developing the latter, the company recently returned the Moonshiners rights to Discovery and decided to change the name of the game.
"We came to the conclusion that a game project about the production and distribution of moonshine, in order to be commercially successful, must have an uncompromising approach to the subject, which often means a higher age threshold and the need to include content in the game aimed at mature players. Klabater's vision for this game was always pretty bold and we really want to add some spiciness, both in the storyline and gameplay solutions. This could be a difficult process since Discovery is a huge TV company where some decisions need to be made by many people. But, we still agreed that it makes sense to work together on the Animal Planet game which is a much more accessible license." – says Michał Gembicki, Joint-CEO at Klabater.
ABOUT MOONSHINE INC.
And so it happened… Your whole life you had only one dream: to get out of your poor birthplace and make a career in the big world. Unfortunately, one bad acquaintance was enough and now… you owe the mafia a ton of money. The only thing left for you to do is rely on your wits and pay back your debt by starting a moonshine underground operation back home.  Maybe your knack for business will be enough to appease the cruel mafia boss and she'll let you go? After all, your Grandpa always said that there is no better life than that of a moonshiner…
Take on the role of a young beginner moonshiner, learn the trade, become a master, and pay off your mafia debt. Who knows, maybe one day you will be the one dealing cards in this game? Create your moonshining empire, get allies, defeat or bribe the competition, and flood the Appalachians with hectolitres of the best moonshine there is. Who knows, maybe you can become another moonshining legend?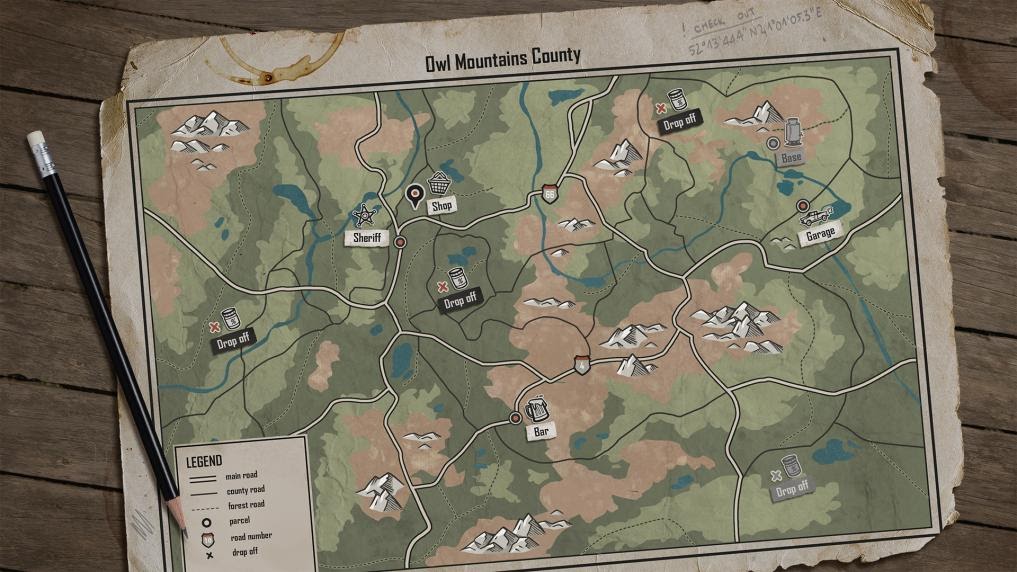 Moonshine Inc. key features:
A unique blend of isometric strategy and RPG
Create apparatus and recipes, both your own and those "borrowed" from legendary moonshiners who walked the Appalachian mountains before you.
Buy, expand and upgrade your illegal, hidden bases across a huge map.
Hire people and build an empire of independent moonshiners, the 'last American heroes.' Manage your employees and your delivery network to produce and sell thousands of liters of moonshine!
Manage the production and distribution of the moonshine – Craft and modify fermentation and distillation equipment! Use the real chemistry and concepts behind fermentation and distillation to create top-of-the-notch alcohols.
Unveil rich technology tree. Unlock new modifications for your equipment and create the most complex recipes.
A story full of twists and colorful characters which you start by making the biggest mistake of your life – and then it only gets worse.
The Red Flag Police system, specially developed for the game, intelligently controlling the behavior of the police and federal agents.
…and don't get arrested. Police and the feds are waiting for your slip-up.
Moonshine Inc. in numbers:
Over 40 different ingredients and recipes to discover and produce!
More than 30 different moonshining machines and apparatuses and their modifications with a complete crafting system.
A five-chapter long plot
5 geographically diverse gameplay areas: Rocky mountains, Woods, Wetlands – swamp, Town, and a grand finale in a City that never sleeps!
Moonshine Inc. will be released in 2021 for PC, Xbox One/Series X, PlayStation 4 & 5, and Switch.