WARSAW – May 6, 2021 – Klabater is pleased to announce that The Amazing American Circus – a unique card game with sim elements, on which the studio works with the talented Juggler Games team – will hit PC and consoles on 12th August, this year. The first stage of the beta tests of the game will start tomorrow.

The game will debut on PC and consoles at the price of 19.00 (USD / EUR) for the basic version and 29.99 (USD / EUR) for the Ringmaster's Edition containing, among others, country-folk OST and a set of digital extras, including a stunning cookbook and a lore book.
Watch the new trailer introducing the story of the game:
---
About the game:
In The Amazing American Circus, you'll build a circus empire from scratch. Flesh and blood opponents, as well as characters known from the American folklore, will stand in your way to success. As a novice owner of a small and run-down circus, you'll have to face and defeat the historic giant of this industry – P.T. Barnum.
The Amazing American Circus tells a story of the most iconic entertainment in American history. The USA, during the Gilded Age, is a turbulent place. The new era is coming, and this is the last right moment for the circus to flourish! Discover Weird America where history blends with a dash of magical realism and ethnical folklore. Meet Wendigo, Bigfoot, and many more!
Your main task in the game is to give circus performances. You will face an often extremely bored audience. Deciding which artists you put on the show is crucial since each of them has their own unique cards. Circus performance is a special card duel played between you and the audience. Their boredom or anger is your enemy, and your best weapons are brilliant performances and effective tricks performed by selected circus artists. Choose your cards wisely and try to skillfully identify the mood of the crowd.
---
Beta tests:
Tomorrow (May 7) Klabater will start the initial closed beta testing phase of the game. The players who supported the game during the successful Kickstarter campaign will get to play first. On May 20, the open beta tests will begin, which will be carried out with the help of the Steam Playtest mechanics – details will be provided soon (it is worth following the information appearing on the official The Amazing American Circus Discord channel). Players will be able to test fragments of the first of the four regions available in the game.
"The decision to postpone the premiere to August is due to the commitment to the final quality and enjoyment of the game, and the additional time needed to properly certify the game on all console platforms." – says Michał Gembicki, Klabater's Joint-CEO. – "We also want to give ourselves a bit more time to market the game and bring it closer to players through open playtests on Steam. We are committed to a transparent presentation of The Amazing American Circus. We are pleased with the quality of the game as it stands and believe that the best we can do in the coming weeks is just to let the gamers who follow the production play it."
---
Take a look at the planned map of the development of Klabater's flagship title for 2021: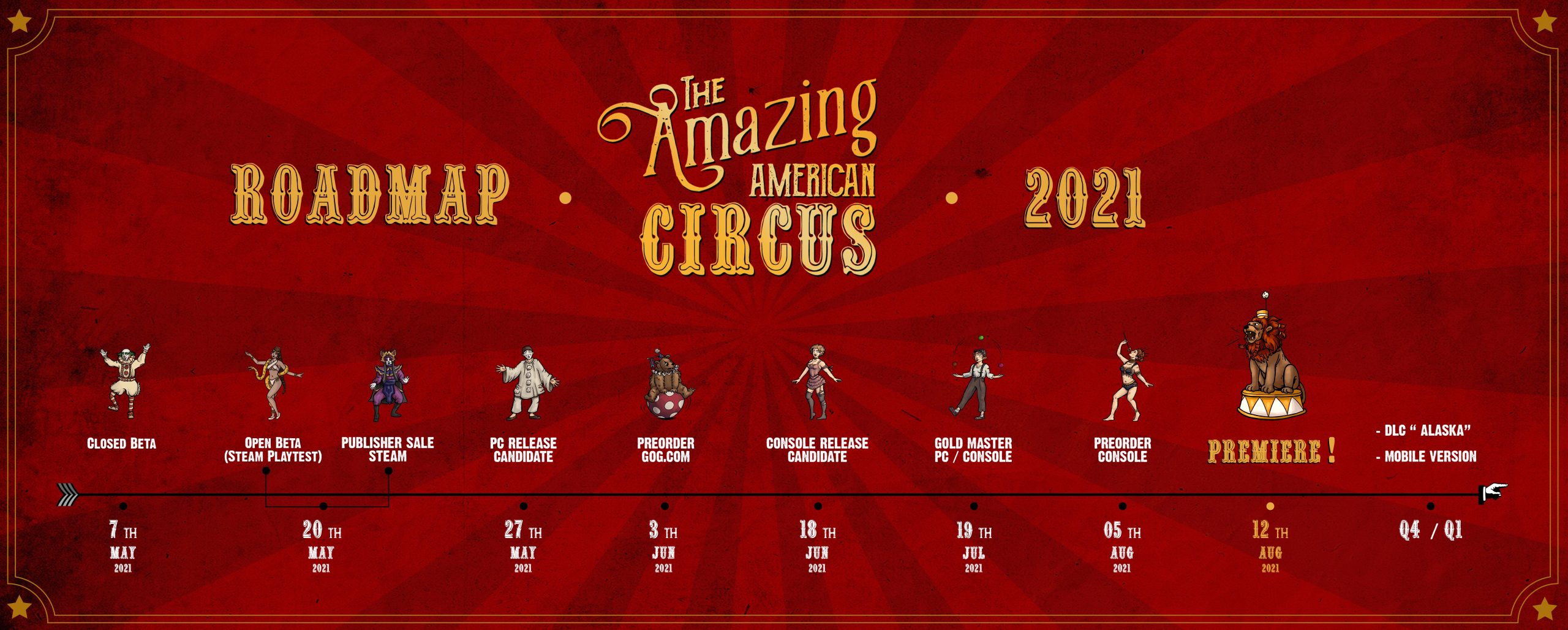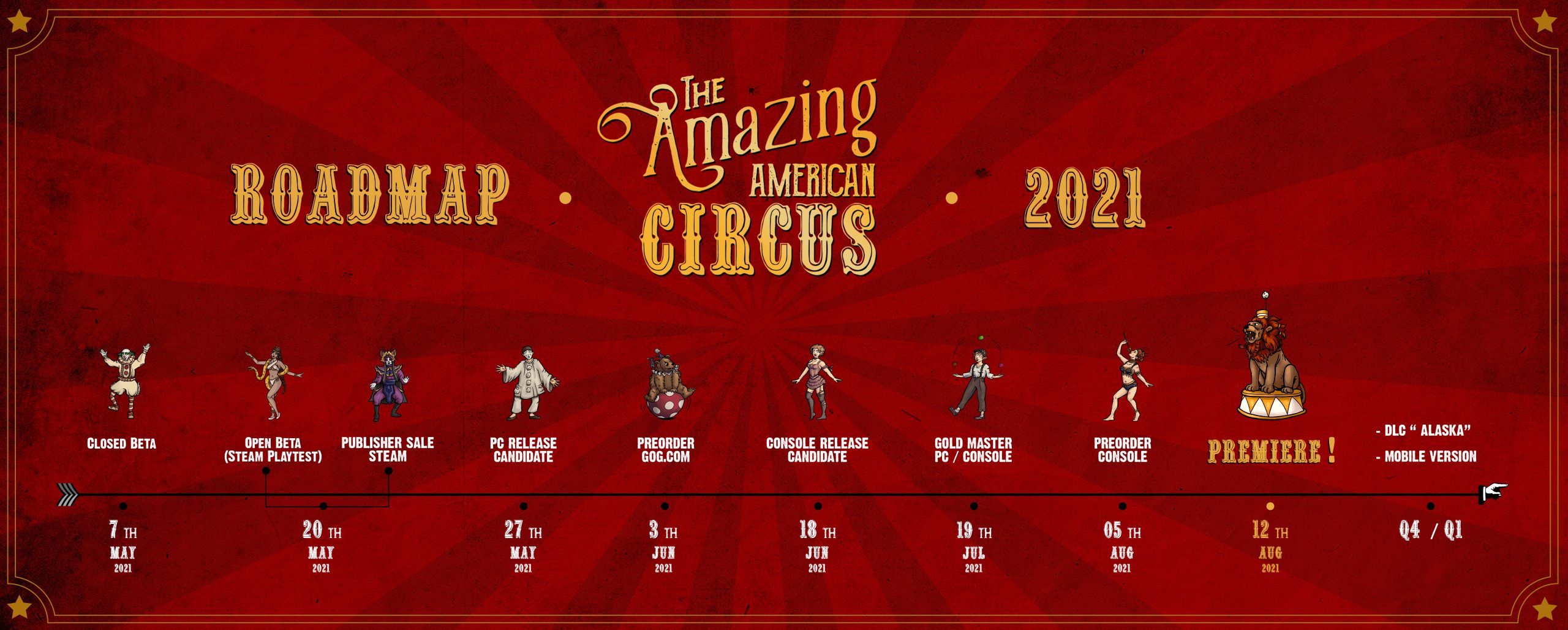 The Amazing American Circus will be released on August 12, 2021, on PC, PlayStation 4/5, Nintendo Switch, Xbox One, and Xbox Series X. More information at: