Warsaw, Poland | July 20th, 2023 – Strategic Mind: Fight for Dominance, a special installment of the Strategic Mind series that combines the acclaimed titles Strategic Mind: Blitzkrieg and Strategic Mind: Spectre of Communism, is now released on Xbox One and Xbox Series X|S, by Klabater.
Strategic Mind: Fight for Dominance let players experience the strategic command of either the German Armed Forces or the USSR Armed Forces. The original series was brought together the devoted team from Ukraine (Starni Games), behind the Strategic Mind series. Today's release combine two acclaimed editions, also released previously by Klabater – the highly regarded Blitzkrieg (first time available on Xbox) and Spectre of Communism. Now gamers of Microsoft consoles will be able to immerse themselves in a finely crafted World War II setting where historical operations and events are intertwined with elements of alternative history.
Special Offer for Strategic Mind Fans
For a limited time, owners of Strategic Mind: Spectre of Communism can avail of a 50% discount on Strategic Mind: Fight for Dominance until August 10th. Additionally, owners of Strategic Mind: The Pacific and Strategic Mind: Fight for Freedom are eligible for a 10% discount. More special discounts for Strategic Mind series owners will be announced soon by Klabater.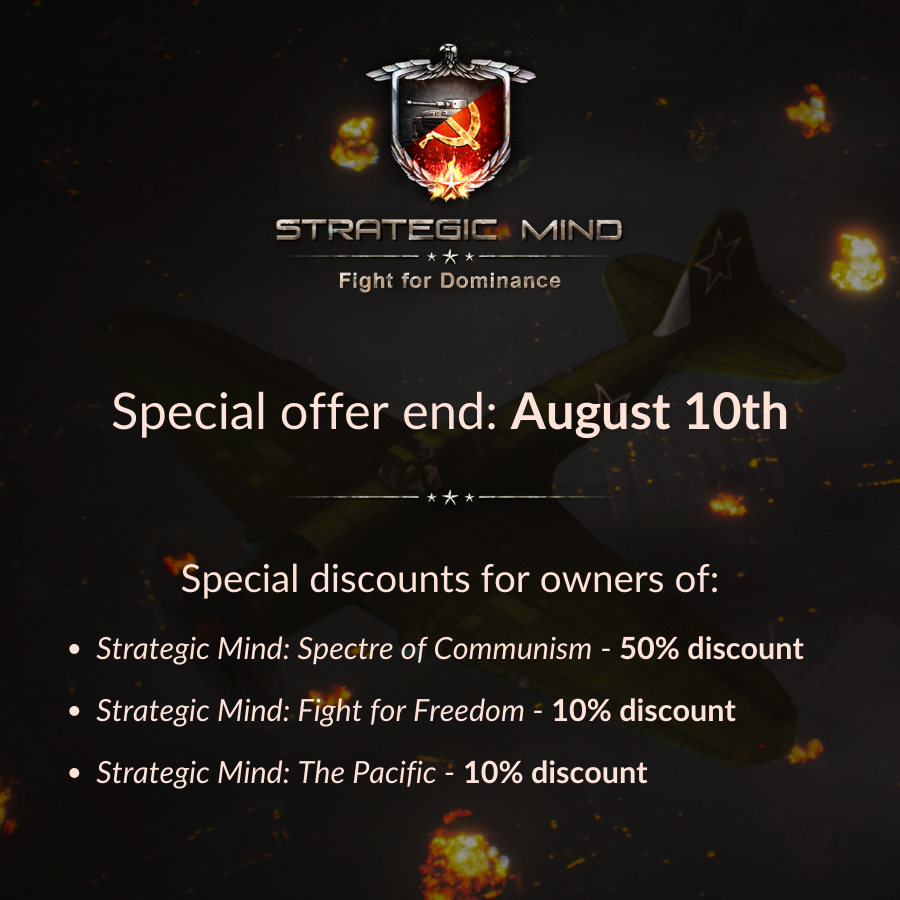 Strategic Mind: Fight for Dominance – see the Release Trailer on Klabater YouTube channel
Main Features:
Command ground, air, and naval forces with an emphasis on land battles.
Enjoy the modern 3D graphics brought by UE4 engine with detailed models of all the units, day/night cycle and weather effects.
Upgrade and customize your troops by leveling them up and selecting skills that best suit your strategy.
Provide your troops with additional equipment for each operation according to your strategy and the war theatre.
Receive a number of awards throughout the game and get access to unique HQ skills, which you can learn to increase the efficiency and synergy of your troops.
Acquire various new units out of 10 different classes. All units and equipment are available at historically accurate time periods.
Capture trophies and employ some of the enemy`s most advanced units against him in future battle.
Explore various "what if's" to see what could have happened if the Soviet Armed forces were to continue their struggle for the world Communist revolution or what could have happened should the German Armed forces be even more successful in their struggle for dominance over the European continent.
Immerse yourself into the story by watching over 60 minutes of cinematics, and listening to in-operation dialogues with full VO.
GET THE REVIEW CODE